Simple, Fast and Safe
The newly developed module clamp TRIC clip is the patented solution for time and cost saving panel installation. TRIC clip matches the highest design, quality and efficiency expectations.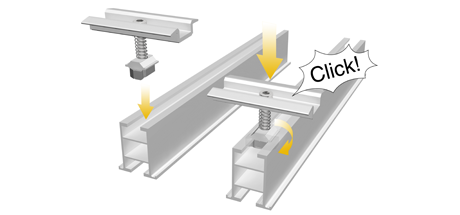 Save time and costs
The new clamps come completely pre-assembled. Placing them in the mounting rails entirely without tools is a breeze - just a flick of the wrist is enough and TRIC clip securely places itself in the proper position with a clearly audible signal. The simplified installation saves significant time.
Secure and flexible
The self adjusting TRIC clip always places itself into the correct position - that's our »TRIC« The acoustic »click« reassures you that the clip is secured against sliding and slipping, and yet it remains movable in the rail until locked. To finally lock it all you need is a single allen key. TRIC combines the power of innovation with more than 30 years of experience.
Certified safety and tested quality -
Made in Germany
In order to cope with the high strains a solar power system has to endure we guarantee the best possible material quality and utmost care during production. All components are structurally optimized and TÜV certified and beyond that are subjected to extensive material and safety tests. A general technical approval is pending.
DID YOU KNOW?
| | |
| --- | --- |
| | TRIC clip is compatible with all TRIC on-roof and free standing mounting systems as well common module types |
TRIC CLIP - CONTACT:
You are a professional interested in our innovative TRIC solar mounting systems and not yet a partner of Wagner Solar?

Get in touch with us!
This email address is being protected from spambots. You need JavaScript enabled to view it.
Interested in TRIC Mounting Systems? Our experienced specialist installers will be happy to advise you. You don't have a Wagner Solar specialist available to you yet? Talk to us!