For highly demanding applications. The specialist for all extensive control tasks.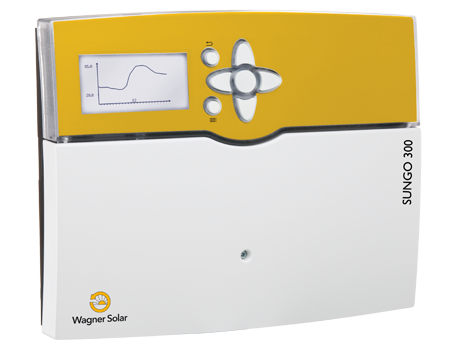 Your benefits:
13 pre-programmed schemes and free assignment of inputs and outputs
Full graphic display with temperature profile history
Data recording, backup and firmware updates via SD card
Expandable with up to five SUNGO EM expansion modules
Heating support through return flow admixture and return flow boost
Freely selectable functions and availability of inputs and outputs
Our competent partner installers and planners will be pleased to advise you which solar controller is best suited for your application.
You don't have a Wagner Solar specialist available to you yet? Talk to us!
Technical Data
SUNGO 300

Input

12 x temperature via Pt1000
3 x pulseinput

Output

13 x 230 V
1 x potential free relay
4 x PWM / 0 - 10 V
Display and operation
Illuminated display with plain text and self-explanatory sctructured menues.
System functions
vorkonfigurierte Solarsysteme: 1 oder 2 Kollektorfelder, bis zu 5 Speicher, Beladung über externe Wärmeübertrager, Thermostatfunktionen, Heizkreisregelung, uvm.
Diagnostic system
System monitoring (e.g. sensor interrupt, temperature spread too high), option for additional info sensors
Safety and special functions
E.g. intelligent aux. heating suppression, collector and storage cooling, pool protection, disinfection, yield metering (with additional sensor and external volume flow meter).
Data communication
Connection to PC and internet via Vbus with optional accessory