Solar controller for water heating and space heating support.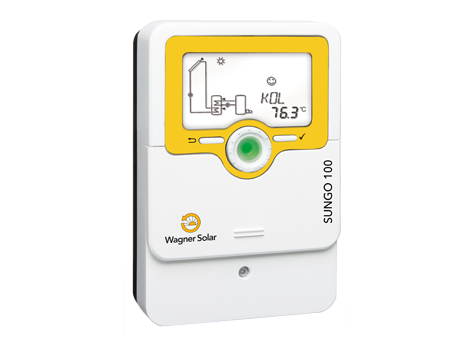 Your benefits:
Choice of 10 pre-programmed schemes, incl. multi-storage and multi-collector fields
Display shows system scheme, icons and plain text
Dial for easy operation
Heating support via return flow boost
Can be integrated in the CIRCO 7 solar circulation unit
Our competent partner installers and planners will be pleased to advise you which solar controller is best suited for your application. You don't have a Wagner Solar specialist available to you yet? Talk to us!
Technical Data
SUNGO 100

Input

4 x temperature via Pt1000 / 1 x pulse input for volume flow meters

Output

2 x 230 V
1 x potential free low voltage relay
2 x PWM
Display and operation
LCD display with running text and system scheme, self-explanatory operation
System functions
Choice of 10 pre-programmed basic systems
Diagnostic system
Graphical system for functional monitoring
Data communication
Connection to PC and internet via Vbus with optional accessory