There are various ways to connect the ECOshower shower tray to water heater and shower. A thermostatic mixing valve is not a must, but it ensures comfortable operation.
The ECOshower shower tray can be combined with any type of water heater.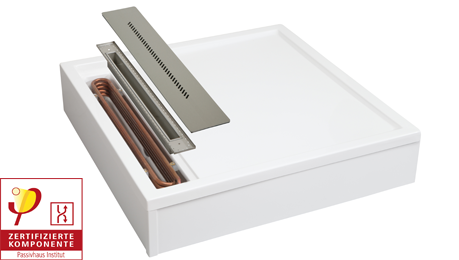 approx. 48% energy savings*
Can be combined as required
Reliable high efficiency
High quality
For even greater energy savings
DID YOU KNOW?
ECOshower shower tray can be cleaned with a few hand movements. After removing the stainless steel cover the heat-exchanger spiral is directly accessible for cleaning. If required it simply can be hosed off or cleaned with a brush.
*NEN 7120, 12,5 l/min
Join the growing number of satisfied ECOshower shower tray users now! Our competent partner installers and planners will be pleased to advise you which domestic hot water system is best suited for your application. You don't have a Wagner Solar specialist available to you yet? Talk to us!