The ECOshower shower pipe can be connected to the water heater and shower in various ways. A thermostatic mixing valve is not a must, but it ensures comfortable operation. The function of ECOshower shower tubes is independ-ent of the type and design of the shower unit itself. Therefore, they are ideally suited for all types of build-ings, whether existing or newly developed.
Sufficient space below the shower room, e.g. a living room or basement, is required for installation.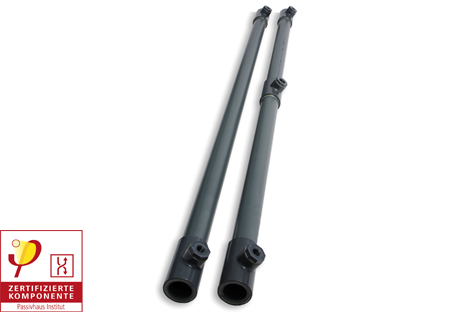 approx. 60% energy savings*
For even greater energy savings
Simple installation
High quality
Suitable for larger commercial sanitary facilities
DID YOU KNOW?
For even more energy saving, it is recommended to combine it with a durable and highly effective solar ther-mal system from Wagner Solar. More than 35 years of solar experience as well as products that won multiple awards are a proof of outstanding quality.
*NEN 7120, 12,5 l/min
Technical Data
Technical Data
Shower Pipe ECOshower 15
Shower Pipe ECOshower 20
Max. Flow rate
15 l/min
20 l/min
Length x Diameter (mm)
1.500 x 63
1.700 x 63
2.015 x 63
2.015 x 63
Discharge connection
Domestic water connections
50 mm
2 x 1/2" female thread
50 mm 2 x 1/2" und 1 x 3/4" female thread
Efficiency (%) NEN 7120 (12,5 l/min)¹
52,3²
55,5
60,0
50,2
¹ Connection to cold water inlet of shower mixer and water heater. Hot water temperature = 60 °C, mixing temperature = 40 °C, cold water temperature = 10° C
² calculated
Join the growing number of satisfied Shower Pipe ECOshower users now! Our competent partner installers and planners will be pleased to advise you which domestic hot water system is best suited for your application. You don't have a Wagner Solar specialist available to you yet? Talk to us!