The ECOshower shower collector functions completely independent from the type and design of the showering facility. It hence is suitable for deployment in all types of building – both, new or old.
The ECOshower shower collector can be connected to the hot water supply and the shower in various ways.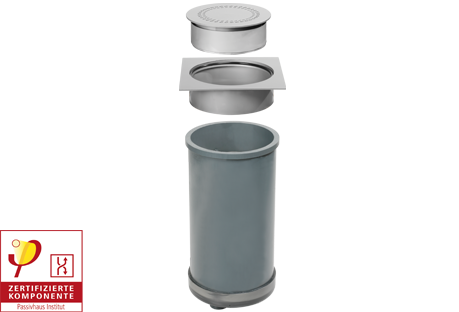 approx. 36% energy savings*
Simple installation
High quality
Maintenance-free
DID YOU KNOW?
ECOshower shower collectors can be cleaned with a few hand movements. After removing the stainless steel cover the heat-exchanger spiral is directly accessible for cleaning. If required it simply can be hosed off or cleaned with a brush.
*NEN 7120, 12,5 l/min
Technical Data
Technical Data
Shower Collector ECOshower
Max. Flow rate
60 l/min
Height
Diameter
600 mm
315 mm
Discharge connection
Domestic water connections
75 mm
2 x 3/4" Außengewinde
Heat exchanger efficiency
Flow rate (l/min)
12,5¹
15,0¹
24,0²
36,0²
60,0²
Efficiency (%)
43,2
42,3
39,6
38,8
34,9
Measurement: ¹ acc. to NEN 7120 durch KIWA; ² following NEN 7120: balanced operation, hot water temperature = 60 °C, mixing temperature = 40 °C, cold water temperature = 10 °C
Join the growing number of satisfied Shower Collector ECOshower users now! Our competent partner installers and planners will be pleased to advise you which domestic hot water system is best suited for your application. You don't have a Wagner Solar specialist available to you yet? Talk to us!