product overview
heat-recovery with ECOshower
Heat recovery for doubled showering pleasure!
Responsible consumers are increasingly interested in reasonable ways to save energy and thus money. Recovering the heat of shower waste water, is a very efficient way of sustainable energy technology.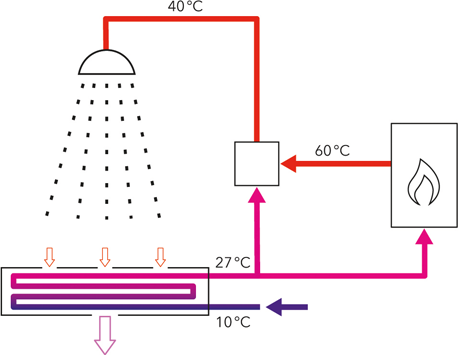 Heat recovery from shower water – how does it work?
We only utilize between 20 and 25% of the shower-water heat, while the bulk literally goes down the drain. This is where the modern and comfortable ECOshower systems pitch in. The heat energy of the draining water is intercepted by a heat exchanger located below the pleasingly designed stainless steel shower drainage. It is then used to pre-heat the cold tap water.
DID YOU KNOW?
By using ECOshower you can almost halve the amount of energy you use when showering. With no loss of comfort.
Operating principle of ECOshower Shower Drain
Operating principle of ECOshower Shower Pipe
Get yourself your ECOshower shower system! Ask your installer for our sustainable shower systems. They will be happy to advise you on how you to save money while showering in the future. You do not have a craftsman yet? Contact us!