Ideally suited for hot water and space heating – the combi storage tank
The tank-in-tank WPKR combination storage tank line elegantly unites two solar thermal functionalities: whilst securing the domestic hot water supply, it also covers up to 30% of space heating requirements in well-insulated buildings. The domestic hot water is stored in the enameled inner tank, with the outer tank providing the space heating water.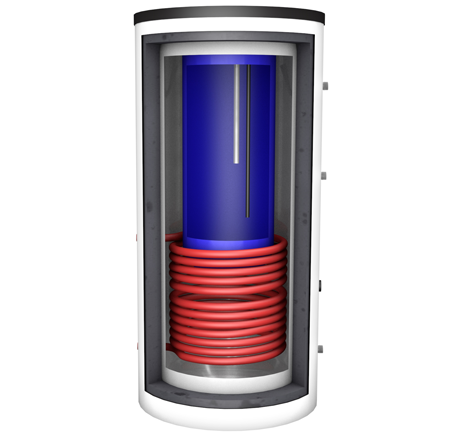 Your benefits:
Steel made tank-in-tank combi storage tank
Dual corrosion protection
Low heat losses owing to excellent thermal insulation
Optional convection brakes CONVECTROL to significantly reduce heat losses at connection points
You are a registered specialised Wagner Solar partner company and wish to conveniently purchase the product through our online shop?
Our competent partner installers and planners will be pleased to advise you which solar storage tank is best suited for your application.
You don't have a Wagner Solar specialist available to you yet? Talk to us!
| | | |
| --- | --- | --- |
| WPKR combined storage | WPKR 750 | WPKR 1000 |
| Total volume [liters] | 724 | 922 |
| Height with insulation [mm] | 2000 | 1990 |
| Tilted height [mm] | 1950 | 1950 |
| Diameter without / with insulation [mm] | 750 / 1030 | 850 / 1150 |
| Surface of DHW heat exchanger [m²] | 2 | 2 |
| Surface of solar heat exchanger [m²] | 2,7 | 3,0 |
| Weight [kg] | 240 | 280 |
| Energy efficiency class | B | B |