Efficient heat storage for solar thermal installations with space heating support
The RATIO buffer storage tank is an excellent steel buffer storage tank for application in solar-assisted space heating or for use in combination with a solar system and solid fuel boiler. The RATIO buffer tank is also ideally suited for combination with our fresh water unit RATIOfresh.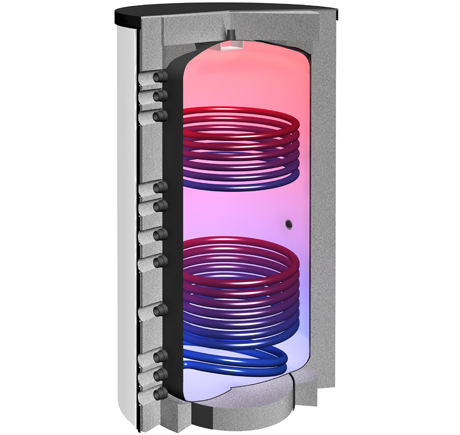 Your benefits:
High-quality steel buffer storage tank
Low heat losses thanks to optimal thermal insulation
Optional CONVECTROL III convection brakes to reduce heat loss through connections
Energy-saving convection brakes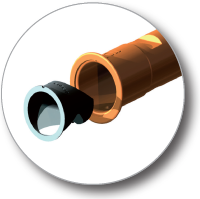 Our patented CONVECTROL convection brakes fitted within the pipe connections prevent uncontrolled heat escape. The heat losses at the pipe connections of a solar storage thus can be reduced by up to 50 %.
We employ RATIO buffer tanks for most of our solar space heating systems.
The second heat exchanger in the upper section enables simple linking with all gas or gas condensing boilers.
Our competent partner installers and planners will be pleased to advise you which solar storage tank is best suited for your application.
You don't have a Wagner Solar specialist available to you yet? Talk to us!
Technical Data
RATIO Buffer storage
RATIO
700-2G
RATIO
1000
RATIO
1000-2G
RATIO
1500
RATIO
1500-G

Volume [liters]

700
1.000
1.000
1.500
1.500

Height without/
with insulation [mm]

1.655 /
1.730
2.147 /
2.222
2.147 /
2.222
2.05 /
2.130
2.055 /
2.130
Tilted height
without insulation [mm]
1.720
2.210
2.210
2.160
2.160
Diameter without/with
insulation [mm]
790 /
1.030
800 /
1.040
800 /
1.040
1.000 /
1.280
1.000 /
1.280
Heat exchanger surface,
bottom [m²]
2,16
-
3,45
-
3,45
Heat exchanger surface,
top [m²]
1,29
-
1,51
-
-
Weight [kg]
168
153
237
205
265
Energy efficiency class
B
B
B
B
B