The perfectly fine tuned and centralized all-in-one combination of solar thermal system components
In the domestic sector, the trend is towards combining individual components into optimized compact systems with a high degree of prefabrication. This approach does not only save space but also considerable installation time. Simplified control and operation via a single central control unit is another great advantage.
RATIOcompact heats fresh water, creates cozy warmth in the home and can be ideally combined with all common heating systems. We successfully rolled out RATIOcompact with a 700-liter storage tank and a 1,000-liter version.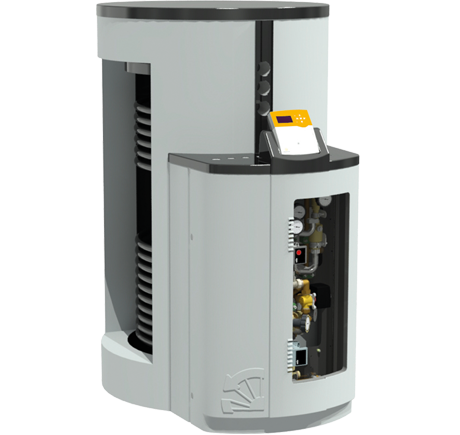 Advantages:
All-in-one compact solution with highest efficiency
Appealing and space-saving
Fast and functionally secure installation
Ready for the future and compatible
DID YOU KNOW?
Now also with a 1,000-liter buffer storage tank and a larger collector area for even greater solar yield.
OUR ADVICE:
With our solar heating system COMPACT line the RATIOcompact solar center makes up a complete system. You have the choice of two package sizes and various collector types.
Technical Data
RATIOcompact 700
RATIOcompact 1000
Weight (without storage tank)
48 kg
Size (without storage tank) (WxHxD)
743 mm x 1263 mm x 519 mm
Suitable storage tank
Buffer storage RATIO 700-2G
Buffer storage RATIO 1000-2G
Fresh water module
Adjustable hot water temperature
20 - 60°C
Net tapping rate 10 °C → 45 °C (sekundary), 55 °C (primary) 10 °C → 60 °C (sekundary) with admixing of cold water to 45 °C, 70 °C (primary)
20 l/min
27 l/min
System controller

Controller for domestic water heating, heating circuit and solar installation integrated in the unit.
Includes re-circulation control and a choice of two alternative systems.

Suitable collectors
EURO L20 AR, EURO L20 MQ AR, EURO L20 MH AR
max. collector surface
up to 13 qm
up to 15,7 qm
RATIOcompact is mounted directly to the storage tank
Our competent partner installers and planners will be pleased to advise you about our Solar Center RATIOcompact.
You don't have a Wagner Solar specialist available to you yet? Talk to us!